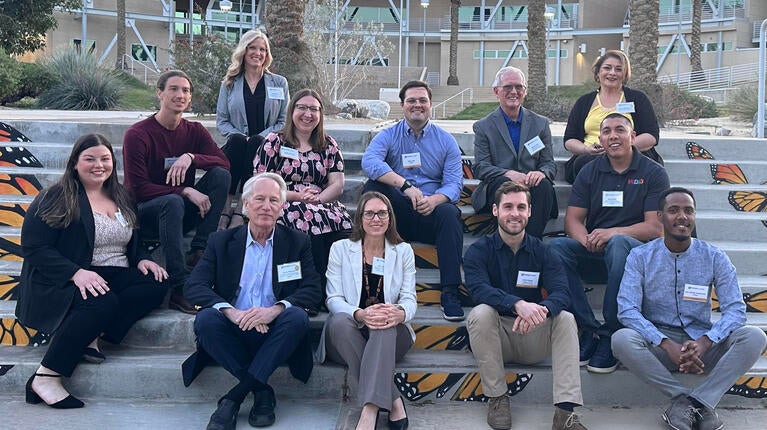 On Tuesday, April 4th, five S2P graduate students competed in the Science Policy Showcase. PhD students pitched creative policy solutions to local issues - such as water conservation, light pollution, and dealing with a rapidly aging population. Pitches were judged based on efficacy of communication, feasibility of the policy, and creativity of the policy solution. 
Special guest judges for the evening included: 
Ann Cheney,
UCR Assistant Professor of  Social Medicine, Population, and Public Health at UCR and faculty director of the Coachella Valley Free Clinic.
Laura James,
VP of Innovation for Coachella Valley Economic Partnership, a public-private partnership nonprofit organization in the Greater Palm Springs region of Southern California. 
Oscar Ortiz, longtime Indio resident with a strong background in chemistry and pharmaceuticals and Mayor of Indio. 
David Pearson,  Managing Director, Entrepreneurial Programs, who has a background in business and STEM, with an MBA from MIT and PhD in  Molecular Biophysics from Yale.
Karina Quintanilla, a long time Coachella Valley Resident, UCR alum, and Palm Desert Mayor Pro Temp. 
The following students competed:
Sarah Bobardt
, PhD Candidate in Genetics, Genomics, and Bioinformatics 
Chris Cosma
, PhD Candidate in Evolution, Ecology, and Organismal Biology
Elijah Hall

,
PhD Candidate in Evolution, Ecology, and Organismal Biology 
Jean Claude Iradukunda, PhD Candidate in Environmental Science  
Chris Rudnicki, PhD candidate in Mechanical Engineering 
Chris Cosma placed first for a cash prize of $500 with his proposal to decrease light pollution. Sarah Bobardt placed second for a cash prize of $250 for her pitch to increase support for senior care. 
The completion was followed by an audience Q&A and the evening concluded with a reception. We had a wonderful time engaging with Palm Desert locals about our ideas and thank the Palm Desert Center for hosting us.