Science to Policy (S2P) at the University of California, Riverside, is founded on the idea that scientists can and should play a critical role in public policy. By hosting and supporting a number of professional development opportunities on and off campus, S2P's vision is to empower UCR STEM graduate students to participate in science policy by providing a suite of experiential opportunities to learn from public policy experts.
Participating graduate students engage with practitioners at the highest level to understand local, state, and federal policymaking; to strategize the value of scientific input in policymaking; and to garner professional development critical to careers in public policy.
---

Thirdhand smoke exposure linked to fabric type, heat, and humidity
UC Riverside-led team developed simple, rapid method to assess contaminants in household fabrics
Read More »
aboutThirdhand smoke exposure linked to fabric type, heat, and humidity
$1.9 million award could keep Zika virus at bay
A UC Riverside virologist has won a $1.9 million award to help prevent the re-emergence of Zika virus, which causes microcephaly in newborns and Guillain-Barre syndrome in adults.
Read More »
about$1.9 million award could keep Zika virus at bay

Picosecond electron transfer in peptides can help energy technologies
Hydrogen bonds reshape peptides to move electrons a million times faster than previously known
Read More »
aboutPicosecond electron transfer in peptides can help energy technologies
Watch Curriculum Chair Danielle Delany present
her fellowship work with Congressman Mark Takano!
February 17, 2021: Our Science to Policy Curriculum Chair Danielle Delany presented an overview of her science policy fellowship work with Congressman Mark Takano's office on the Economic Impact of COVID-19 on CA-41 and the Impact on Early Child Care and Education. Watch it here!
Our 2021 Science Policy Certificate Class has commenced!
January 8, 2021: Our 2021 Science Policy Certificate Class has commenced! Thank you to Congressman Mark Takano for speaking at our first meeting to discuss the role science and technology plays in policy, your work to restore the Office of Technology Assessment, and forensic algorithms!
Cabinet Members Attend NSPN Annual Symposium!
November 1-3, 2019: Four of our cabinet members, William Ota, Danielle Delany, Derreck Carter-House, and Stephanie Piper, attended the National Science Policy Network Annual symposium in Madison, Wisconsin! They led an interactive workshop to share event guides with other science policy groups around the country, and will publish those event guides jointly with NSPN. They also were able to reconnect with one of our founders: Holly Mayton!
Inaugural Cohort Completes S2P Certificate Program
April 2, 2019: S2P congratulates the 2019 cohort for successful completion of the Science to Policy Certificate Program! Certificate recipients were treated to a ceremony in which they shared their experiences with invited guests and received accolades from certificate advisers Dr. Susan Hackwood and Mr. Doug Brown as well as representatives from the office of Assemblymember Jose Medina. We look forward to seeing all of you making positive change to science policy in the near future!
S2P Teaches the Water Cycle
March 11, 2019:  Student cabinet member Parisa Parsifar, along with other members of her NSF IGERT fellowship cohort, developed and produced an educational YouTube video about the water cycle and why we should be thinking about the ways in which we use (and abuse) water.  The video was an exercise aimed at communicating to children the importance of water in our lives.  In coming months, the short film will be entered into a science communication competition hosted by the American Chemical Society.  Good work and good luck, Parisa and IGERT team!
S2P Competes For STEM Solutions
February 25, 2019:  Student cabinet member William Ota represented S2P in the UCCS STEM Solutions in Public Policy Award Competition, a competition aimed at matching promising proposed policies in STEM fields to state legislators that will back them.  His proposal, which targeted the creation of a pilot program for monitoring environmental DNA (eDNA), was one of a small number that advanced to the second round of the competition.  Although it was not ultimately recommended for further consideration by a legislative office, Ota received Special Commendation for submission of a strong proposal that intrigued staffers and showed potential for economically-friendly conservation practices.  Kudos, William!
S2P Students Start the Conversation at AAAS 2019 Annual Meeting
February 14-17, 2019:  Six S2P students attended AAAS's 2019 Annual Meeting to promote the Science to Policy Program and other science communication and policy initiatives going on in and around UCR.  Four students presented posters throughout the weekend, and the group practiced their informal science communication skills by hosting EurekAlert, a happy hour event at AAAS for science writers (click here for our so-real-it-hurts host speech).  S2P received enthusiastic attention at our vendor booth, with many inquiries about our certificate and workshop programming.  We also received praise from EurekAlert attendees, who emphasized the need for effective science communication in an increasingly jargon-heavy society.  With so much positive feedback, S2P will definitely be making an appearance at next year's meeting! 
S2P Students Make a Splash at CCST's Science Translators Showcase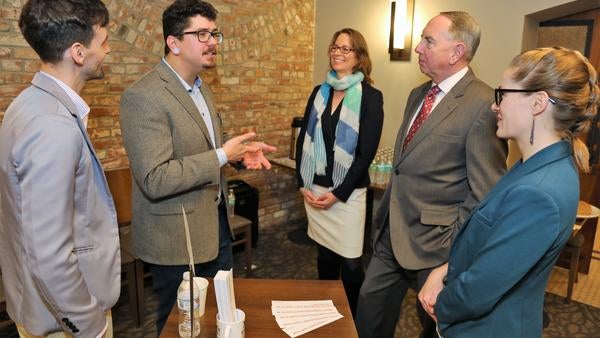 February 6, 2019:  Two S2P student cabinet members, Derreck Carter-House and Ben Sommerkorn, participated in CCST's Science Translators Showcase in Sacramento, CA.  This showcase, organized in partnership with State Assemblymember Jose Medina (D-Riverside), gathered 12 graduate students and postdoctoral researchers from universities across California to discuss their research with decision makers in an informal mixer-style setting.  The event received much positive feedback from all who attended.  Way to represent S2P, Derreck and Ben!
S2P Meets Assemblymember Jose Medina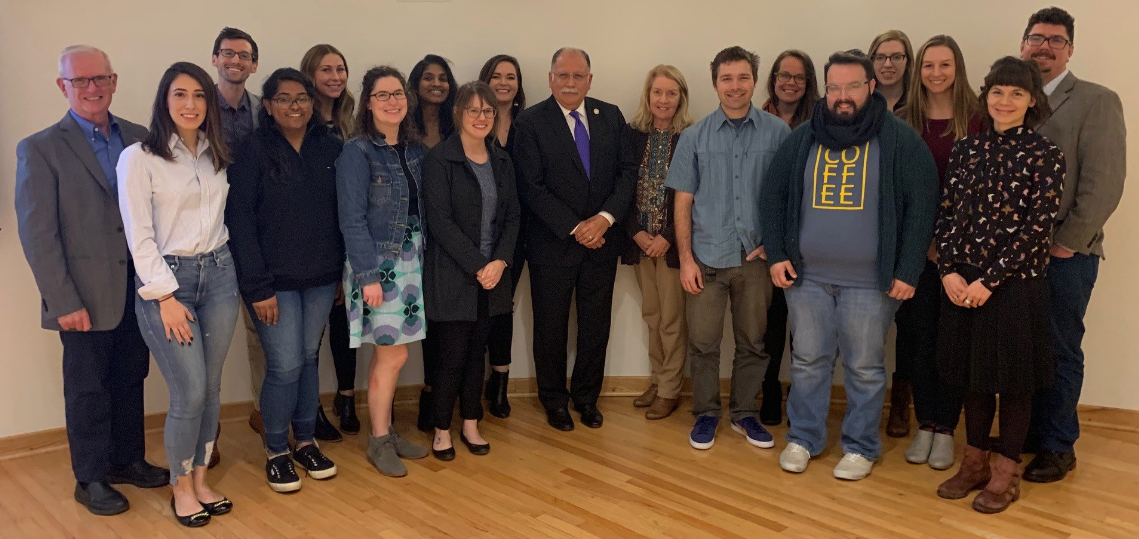 January 24, 2019:  S2P, in partnership with UCR School of Public Policy, invited Assemblymember Jose Medina to UCR for a networking mixer.  Medina is Assemblymember for California's 61st District (Riverside, Moreno Valley, Perris, and Mead Valley) and is beginning his third term in this position.  Medina is also chair of the Assembly Committee on Higher Education, making him a key contact for graduate students in S2P interested in educational policy.  He and students discussed a variety of topics from the policy process, incorporating science into policy, international collaborations, and political engagement.  We look forward to future meetings with Mr. Medina and our other elected officials at UCR!
A Career Discussion with Nobel Laureates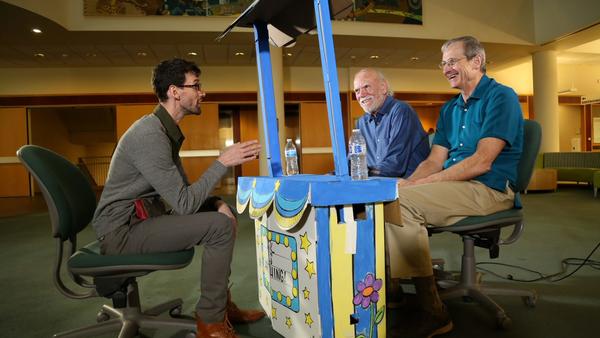 January 9, 2019:  UCR was visited by two Nobel laureates, Dr. Barry Barish of Caltech and Dr. Richard Schrock of MIT.  Barish was a member of the team awarded the 2017 Nobel Prize in Physics for their development of the Laser Interferometer Gravitational-wave Observatory (LIGO), a network which recorded some of the first observations of gravitational waves and disproved some of Einstein's theories about gravity.  Schrock, who received his PhD at UCR, was awarded the 2005 Nobel Prize in Chemistry for his development of olefin metathesis, a chemical reaction which has improved efficiency and environmental sustainability in fields such as medicine and fuel.  S2P students had the opportunity to sit down with these two renowned scientists and discuss their careers to success, their research, and their influences on public policy.  Watch the discussion here!
Stay tuned for more S2P news!